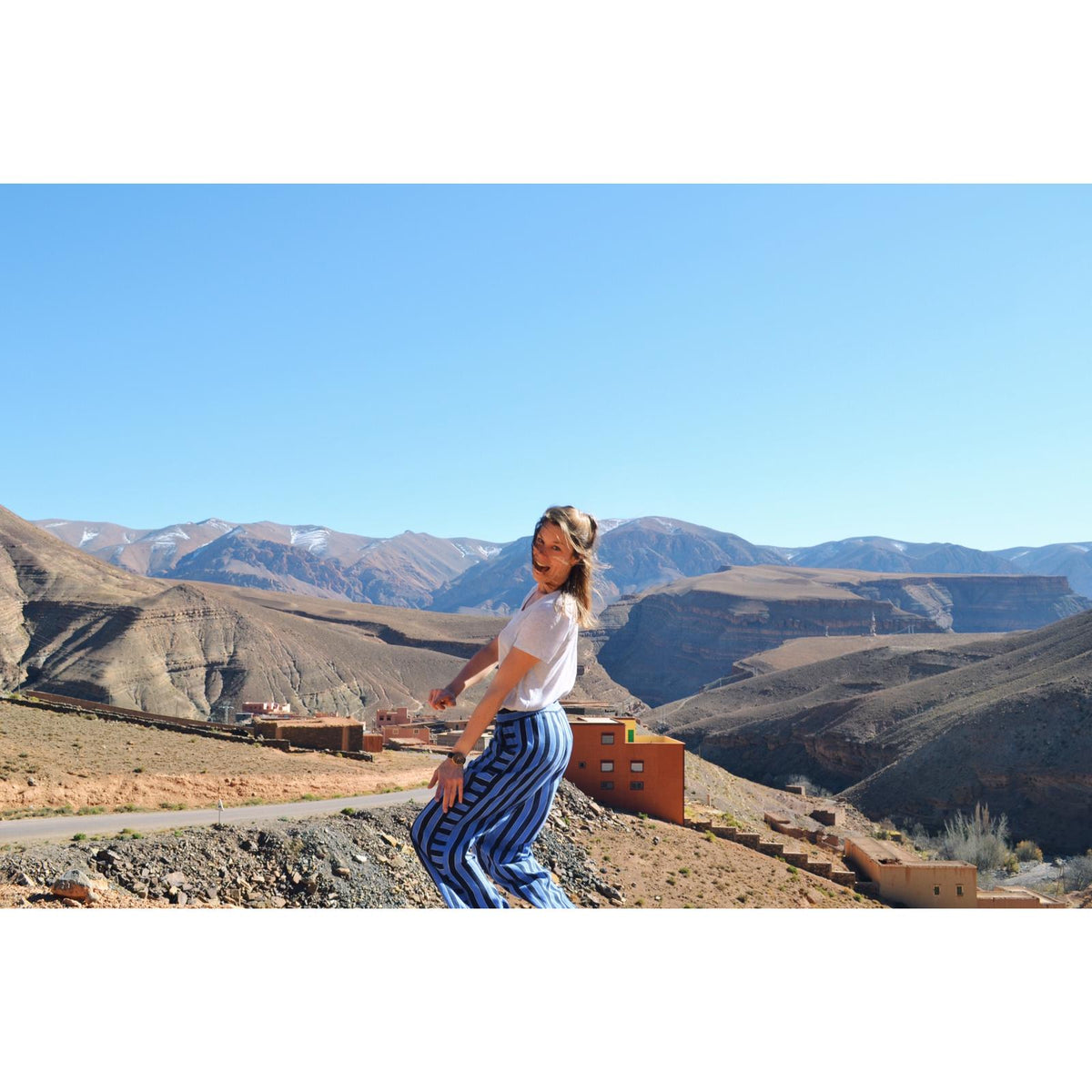 One week, one car, 5kg of oranges and two friends filled with excitement and curiosity, ready to take the road from Marrakesh to Fez and immerse ourselves in mountain magnificence. 
Departing from Marrakech towards the High Atlas mountains, our first day started with curvy roads, small Berber villages and magnificent changing landscapes. On our way to Ouarzazate, we made a stop to visit the Ksar of Ait-Ben-Haddou, located in the foothills of the High Atlas mountains. It is the perfect example of the architecture of southern Morocco - the houses crowd together within the defensive walls, reinforced by corner towers. No wonder Ait-Ben-Haddou was used as a set for Game of Thrones. 
Arriving at Ouarzazate we stayed at a place outside of the center, Ecolodge L'île. Youssef's place is a little eco-paradise with amazing views on the lake and the mountains. With their own garden they grow vegetables, herbs and spices taken care of by lovely gardener Jamal. The people who work here, special mention for Mimoun and Houssaine are amazing people, friendly and helpful and they love to bring live Berber music in the evening :).
Before continuing our way to the Dades Gorges, we made a little detour to drive the scenic route through the Vallée des Roses or M'Goun valley. We were a bit too early to see the roses in full bloom - for that you have to visit the valley, Kelaa M'gouna and the Rose festival in the months of April and mid-May.Then you can see the women picking these beautiful, fragrant roses and making rose oil and rose water with it. Impressed by its stunning scenery our first Berber pouf collection has been named after "Vallée des Roses". We stayed at a traditional Berber house or Kasbah "Jardins de M'Goun' with beautiful views of the valley. Rachid prepared a delicious tajine for us and played live Berber music after dinner.
After making our very own almond paste with argan oil and honey, we continued our way to the Dades Gorges. This drive, the R704, 'Road of a Thousand Kasbash' is spectacular and the most scenic drive I ever did, impressed by its savage grandeur, constantly changing and wild landscape and unearthly silence; although I have to admit didn't do the Grand Canyon yet :).
The Dades gorge starts in Boumalne du Dades, a peaceful Berber town, from where a winding road leads you into the gorge. Spectacular rock formations and beautiful old Kasbahs are lying around the dry but colorful Dades Valley with its Dades River and little Berber villages. The very fertile soil allows the inhabitants to grow different vegetables, fruits, almond and walnut trees and the softer green of the fertile valley contrasts heavily with the backdrop of red-colored canyons and spectacular mountain scenery.  
We continued our route at Msemrir to follow a thrilling mountain loop (3000 m altitude), following Dades Gorge as far north as Agoudal. Agoudal is a traditional small Berber village blending perfectly with the High Atlas Mountains. The most friendly hosts, Abdu and Ali, welcomed us at Auberge Ibrahim after a long drive through the Dades Gorge. 
The next day we continued our route to Imilchil, another authentic Berber village at an altitude of 2,200m in the Midelt Province of Morocco. Sometimes difficult to reach in winter due to heavy snow fall, but we were lucky :). A calm and peaceful town, known for its festival of engagement and its lakes Tislit and Isli, called after two lovers, a sort of "Romeo & Juliet" story.
Heading further north in the direction of Fez and the Middle Atlas Mountains, we made a quick stop in Khénifra before heading to Azrou. The road from Khénifra to Azrou is beautifully surrounded by mountains covered with evergreen oak and cedar. Especially Azrou is known for its craftsmanship of wood and traditional Berber weavings including carpets, shawls, pillow coverings and bags, full of personal charm and artistic expression. 
From Azrou and Ifrane we continued our route to Fez, a medieval city and UNESCO World Heritage Site. Fez is historically the center of learning in the Arab world and has the oldest university in the world. Strolling down the famous blue gate or Bab Boujeloud, the oldest part of Fez 'Fez el-Bali', you will find junk souks, outdoor markets, bustling bars and new restaurants with a modern edge, especially in the street of Talaa Kabira. 
Not to miss are the ancients mosques and 'madrassas' or Islamic schools, the Medersa Bou Inania and Medersa el-Attarine, dotted through this labyrinthine city. Non Muslims are not allowed to visit the mosques, but you can capture a glimpse and sense of the splendor of Islamic architecture from outside.  
In Fez, we stayed at Riad Dar Ikram, hosted by the lovely Samira. Located in the center of the Medina, in the Talaa Kabira. 
**** 
Salaaaam Aleikum. Au revoir nos chers amies, hommes et femmes artisans, la famille, le ciel étoilé dans les montagnes Atlas, l'hospitalité marocaine, les délicieuses tajines, le thé à la menthe,.. vous allez nous manquer. A bientôt. Aleikum Salaaaam! 
****