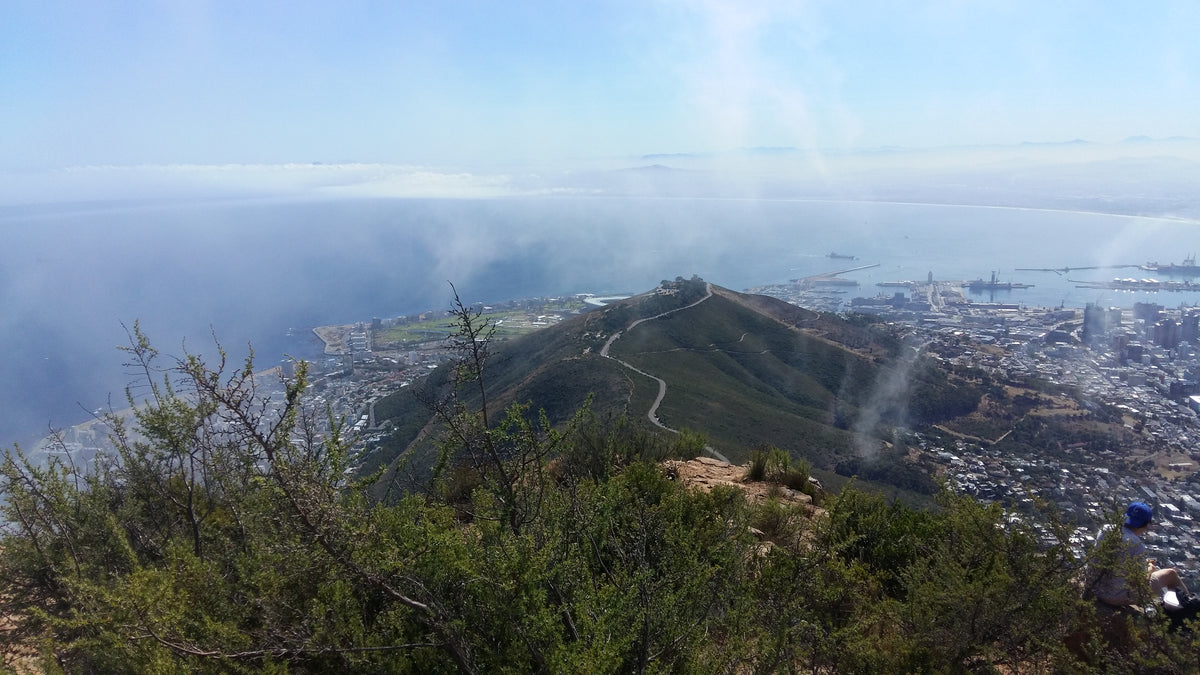 A two week holiday in South Africa, discovering Cape Town, exploring the Garden Route and enjoying South Africa's wilderness and wildlife made us long for more. We decided to return to Cape Town in February 2017, this time not only for holidays but also for work and living. Four months of discovery, adventure and travel through South Africa's picturesque wine country.
Cape Town and its Panoramic Views
LION'S HEAD & SIGNAL HILL
What I love most about the Lion's Head hike is the full 360 degree view you get of Cape Town. To avoid a hiker-jam, wake up early and climb Lion's head before sunrise or hike up at sunset but make sure to bring a flashlight :). 
From Lion's Head you have a beautiful view on Signal Hill, the smaller flat-topped hill extending from Lion's Head.
TABLE MOUNTAIN
We started our hike at Constantia Nek. It is one of the longer routes on the mountain (+/- 16km), but worth it as you cross lovely dams and while you're climbing the views from St Michaels peak are just terrific. 
For other hikes you can have look here. 
Cape Town and its Cafe Culture, Delicious Cuisines & Lively Nightlife 
Bree Street is doubtlessly the trendiest street with lively bars and gourmet restaurants. Get a table at Chefs Warehouse for innovative tapas and finish with a craft cocktail at Mother's Ruin, country's first concept gin bar. Another great spot for a tasty gin tonic in a cozy atmosphere is the Gin Bar, located in a side street from Bree street. 
Part of Cape Town's coolest block is Kloofstreet where you can find my favorite restaurant Black Sheep and its delicious tuna. Don't forget to reserve a table, as it can be very busy on both weekdays and weekends. Other great spots in Kloofstreet for a tasty lunch and freshly brewed coffee are Molten Toffee, Yours Truly and Deluxe Coffeeworks Kloof Street. 
For a homemade burger you have to be at laid back The Dog's Bollocks at YARD in Gardens. You're now also very close to the coziest square of Cape Town 'Dunkley Square' where you can enjoy a delicious Greek meal at Maria's or grab a beer at Roxy Late Night.  
On the first Thursday of every month, art galleries and shops open their doors till midnight for First Thursdays. The event is completely free with no schedule to follow; you are free to absorb the art, music and food at your own leisure. 
To combat the Sunday-night blues our favorite activity was absorbing an outsider movie at the Labia Theatre in Gardens. It's the oldest art-repertory movie cinema in South Africa, showing foreign, independent and old movies. 
Cape Town and its unspoiled beaches 
NOORDHOEK BEACH
It's Cape Town's most unspoiled and best protected beach at the southern end of  Chapman's Peak drive.
SMITSWINKEL BAY
One of Cape Town's secret beaches and the only way to reach it is via a 15-minute hike down the trail from the surrounding cliffs. 
LLANDUDNO BEACH
A picturesque beach, especially at sunset, with a beautiful backdrop of the mountains.
KOMMETJIE LONG BEACH
A peaceful long white sand beach with mountain views and great spot for experienced surfers. 
Cape Town and its Breathtaking Sunsets
You will become easily addicted to watching sunsets in Cape Town. Here are some of our favorite spots: Signal Hill, Lion's Head, Bloubergstrand, Long Beach Kommetjie, Camps Bay Tidal Pools and Clifton Beach.
Cape Town and its Food & Craft Markets 
Neighbourgoods Market, my favorite one, takes place each Saturday from 9am till 4pm at the Old Biscuit Mill. This market showcases Cape Town's finest designer-makers, specialty-producers and food-alchemists. One Saturday we were very lucky to catch a session of Tribalneed, an amazing mix of European electronic and Afro-Australian tribal grooves.
Oranjezicht City Farm Market at Granger Bay, V&A Waterfront takes place each Saturday from 9am till 2pm. 
Bay Harbour Market in Houtbay is a great place to buy local crafts while enjoying a glass of wine and live music. It takes place over the weekend from Friday evening till Sunday afternoon 4pm.
Cape Town and its Beautiful Picnic Spots 
Cape Town is home for some beautiful picnic spots. At Kirstenbosch Botanical Garden you can take your own picnic, but you can also order one from the Tea Room. Another one is Eagle's Nest on the Constantia Wine Route where you can enjoy the estate's award-winning wine. 
Cape Town Magazine gives an overview of all picnic spots in this article. 
Cape Town and its Lovely and Welcoming People 
These 4 months have enriched us with friends for life. From a casual talk at The Dog's Bollocks at YARD to an invite for a BBQ, to a hike up Lion's Head and Table Mountain,.. Juliet, Jan, Alex, we're looking forward to see you back soon!
And finally, where to stay in Cape Town? Vredeshoek, Gardens and Tamboerskloof are great areas and the safest and best to discover the city. 
In Cape Town itself I recommend using Uber. If you would like to explore the Cape and beyond, it's better to rent a car. 
-------------------------- 
Look out for my next blog: "The Hidden Gems in the Western Cape. Its peaceful and incredible natural beauty."
~ St. Helena Baai and more