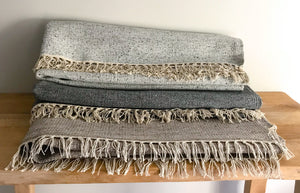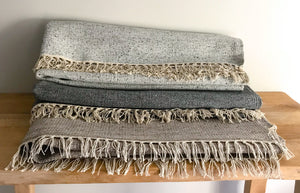 On Sale
Minimalism Viscose Wool Rug in dark gray (available in 3 different colors)
A neutral palette is the go-to for those that are concerned with taking risks within their space with bold and edgy colors. These neutral area rugs in shades of light gray, beige and dark gray will provide the foundation for your minimalist interior.
The design of these wool viscose rugs is simple yet very elegant and creates a brilliant interplay of colors as the silky fibers beautifully reflect light.
Size: 2m x 1,50m
Material: 100% organic wool & viscose, fringes at the end. Viscose area rugs are suitable for people with animal allergies. 
Weave: Hand woven and reversible. A substantial rug which if properly taken care of will last through many years of use. 
Origin: Olá Lindeza's viscose area rugs are made in India by a company that does not employ child-labor, and is proactively supportive of its workers.
Cleaning instructions: Spot clean with a dry cloth or vacuum.  
If you would like to know more about this viscose area rugs you can contact us at hello@olalindeza.com.